Accessible Code
Accessible Code is a 2-D code that provides multilingual information to people with visual impairments or people who otherwise can't read written text.
By printing the code on a product's packaging, information such as how to use that product, its ingredients, and its safety precautions can be made available to a wider range of consumers. Information in up to 15 languages can be combined in a single code, making the essential product information available to most consumers without the need for separate instructions or braille on the product's packaging. (Patent pending.)

---
How Accessible Code Works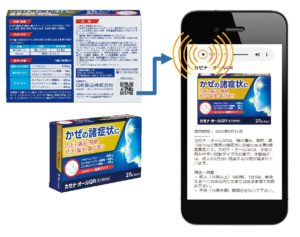 Accessible Code has been designed so that people with visual impairments can easily read the code with their smartphones and have the information spoken aloud. This technology has been developed and the printed code and the packaging have been established based on data gathered from numerous experiments with volunteers.
For documentation on how people who are blind can use a smartphone to scan the code, please refer to this report, which documents several experiments supported by non-profit organizations and NEDO (New Energy and Industrial Technology Development Organization of the Japanese Government).
---
Accessible Code needs to meet the following specifications: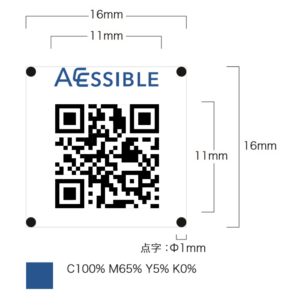 A QR code(1) should be used as the 2-D barcode.
It should be 16 mm (±1 mm) square, with a 10+ mm square code and the logo beside, and concaved or brailled on all four corners.
One side of the code should be no longer than 29 cells.
To prevent confusion, avoid printing the Accessible Code on the same side of the packaging as the product's normal barcode.
---
The location of the code on the printing surface (the packaging material) should be clearly indicated using one of the tactile markers described below:
A raised dot with a diameter of approximately 1 mm should be placed in each of the four corners of the code – specifications identical to the ISO standard for braille are preferable.
The area surrounding the code should be concave to indicate its location.

While there are many ways to indicate the location of the code in a tactile way, such as using a sticker or making the whole code convex, the two methods above have been chosen to avoid logistical issues and confusion with the tactile aspects of existing packaging designs.
Additionally, as the QR code is black and white, it is easy for people with low or color-impaired vision to recognize.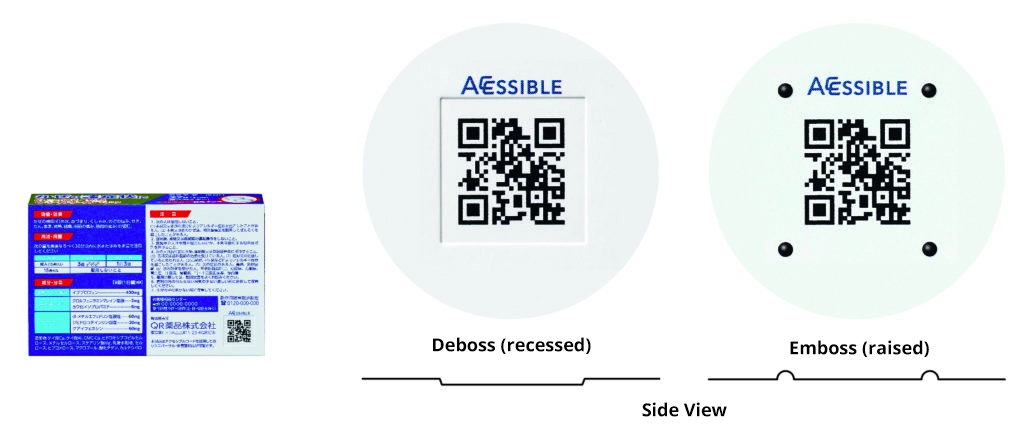 Strengths of Accessible Code
Accessible Code was created over the course of three years with extensive input from an organization that provides support for people with visual impairments, who ensured that the code's design would address the needs of that group. For people with visual impairments, one of the biggest barriers in everyday life is the difficulty of accessing information about items such as food, drink, and medicine.
(The following is a multiple-choice questionnaire that was administered to 100 individuals with visual impairments.)
I wish there was a code on this type of item ("I wish I could easily get information about…")
Food items – 50 people
Food products' expiration dates – 35 people
Beverages (alcohol, sugar content, etc.) – 22 people
Food place of origin and raw ingredients – 19 people
Medicinal information (prescriptions, etc.) – 17 people
Information about clothing (color, material, washing instructions) – 16 people
Soaps and detergents – 14 people
Postal items (home delivery, etc.) – 12 people
Instant-noodle preparation instructions – 12 people
Train or bus timetables – 9 people
Restaurant menus – 8 people
User manual for electronics/appliances – 7 people
Documents from municipal governments – 6 people
Music CDs – 5 people
Accessible Code uses a standard, open-source QR code. Therefore, consumers do not need to download a dedicated app. They can use whatever QR-code reader software they already have to scan the code and have the information read back to them.
It is difficult to put multilingual information or braille on product packaging, but Accessible Code takes up a relatively small space (a 16-mm square). That one code can deliver product information to consumers anywhere in the world, regardless of their visual impairment. Seniors who find it difficult to read small writing can easily get the information on their smartphone and magnify the writing or listen to it.
The contents of Accessible Code can be changed (without changing the code itself) if necessary, such as in the case of a natural disaster or product recall.
The multilingual speech function of Accessible Code uses the most advanced speech synthesis technology available for each pair of languages and is connected via a system. As a result, services are constantly evolving, and the technology never becomes obsolete.
The audio playback produced by Accessible Code is slightly faster than normal speech. This is because the average hearing speed of people with a visual impairment is a little faster than that of people with unimpaired vision.
Benefits of Use for Manufacturers
Manufacturers who use Accessible Code can use the app's admin panel to show where in the world and in what language the product information is being accessed. That same data can be downloaded in CSV format. Until now, POS data only tracked the point of purchase at the store, but today it is more and more common for products sold domestically to be used overseas. By using Accessible Code, it is possible to get realistic data about one's markets throughout the world. (Location data is obscured to protect user privacy, so only a range of several hundred meters is given.)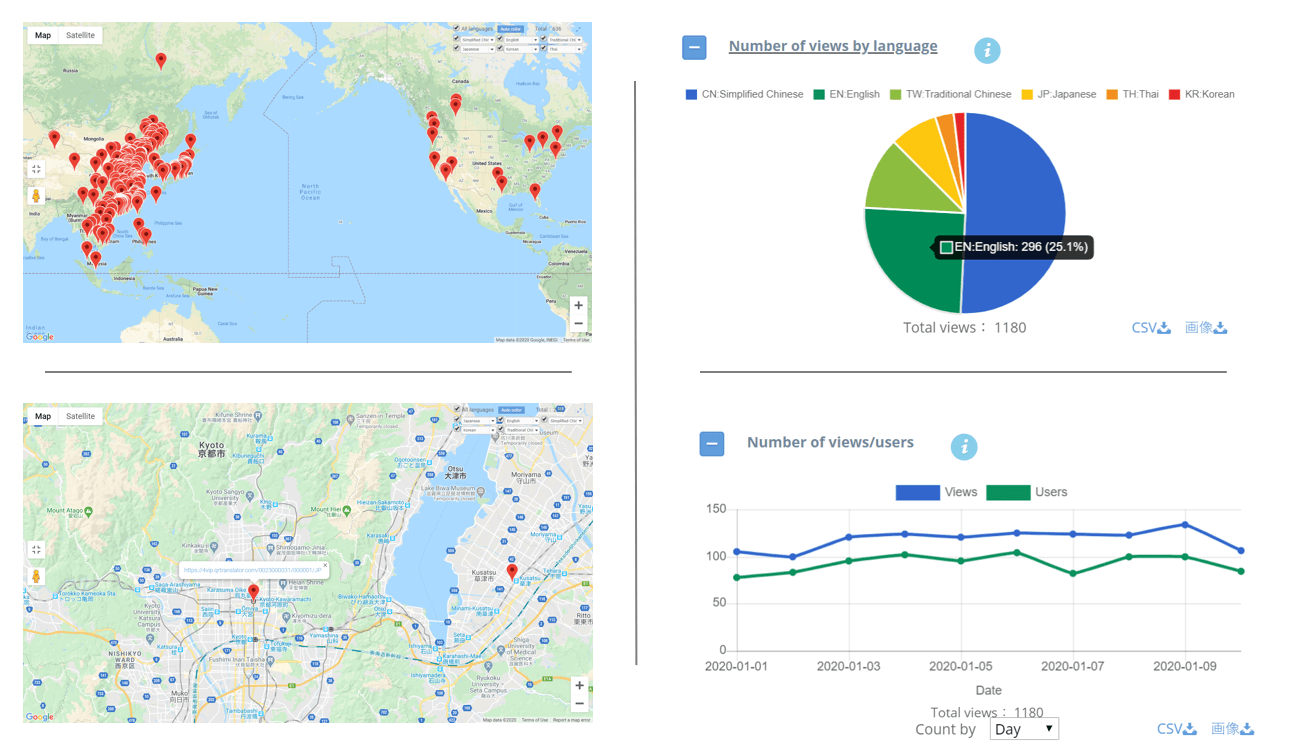 ---
Implementing Accessible Code
Product packaging designs will need to be altered in order to use Accessible Code. When creating your product packaging, please consult the printing company you do business with, or contact us, and we will introduce a experienced printing company.
When issuing an Accessible Code, we will first issue a temporary code that has not been activated. When the code is printed on the product, we will verify that it meets the Accessible Code specifications. Specifically, we will conduct tests to ensure several criteria, such as whether the code is recognizable by touch and whether the information on the page corresponds to the voice reading (screen reader). Only products that have passed these tests will be certified to carry Accessible Code.
The costs associated with implementing Accessible Code depend on the base cost for each product (page design, content translation, etc.) and the service usage fee (charged annually based on the number of products distributed). The service usage fee includes all access to data analysis screen of the admin panel, but it does not cover packaging design changes or printing costs. (The back end of Accessible Code utilizes QR Translator, an internationally-patented web service, to automatically create, edit, and synthesize multilingual contents.)
Examples of Implementation
Accessible Code was employed in Japan for the first time in 2020, on the packaging of several OTC drugs manufactured by the Shionogi Group of companies. It continues to expand.
---
(1)
QR code is a registered trademark of Denso Wave.